Taproot team member spotlight: Ann Burke, PhD
Hi, My name is Ann and I am a recovering academic.
I grew up in Crystal Falls, grateful for the sense of community I learned. Excited to go out into the world, I always kept my home town in mind. In fact, my best teachers at Forest Park inspired me to become a teacher, and the encouragement I received to stay curious inspired me to eventually pursue my PhD in English and Education. My community also taught me to stand up for myself and speak up when something was wrong. And I came to realize that much of what I experienced and observed in higher education was not only wrong, but also harmful and inequitable for many marginalized individuals and groups.
On paper, I hold degrees and have garnered rich experiences from prestigious institutions. If you read between the lines though, my experiences hold trauma stemming from oppressive, entrenched hierarchical systems within higher education that perpetuate toxic cultures and social inequality. Despite my negative experiences, I never forgot my roots or the importance of lifting others up and realized I didn't always have to be on a campus or in a classroom to do this kind of work. This is why I am excited to get back to my roots and lift the UP community up as a User Experience (UX) Researcher and Strategist at Taproot Law.
One of my frustrations while doing research in higher education was that my work rarely reached or impacted folks beyond the walls of the "ivory tower." Differently, User Experience (UX) Research is done to understand what a user [read: human being] understands, experiences, and needs. This kind of research requires that we go directly to the source, the users, and that we learn directly from them. The goal is then to take what we learn and implement revisions or changes to make something better for the users. UX research involves various methods ranging from interviews to surveys to focus groups. At Taproot, I am using research to figure out what works best for clients and how we can provide even better legal services to them. It will be my job to get feedback from clients and to work with them to test out Taproot products and resources so we know what's working and what can be improved.
Strength-based. Trauma-informed. Human-Centered.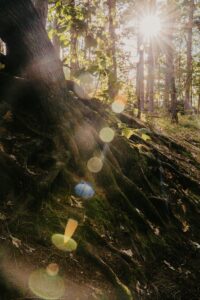 Taken literally, a taproot is a central and sturdy root, bearing lateral roots. The Taproot team aims to be a central and sturdy space for clients who might otherwise feel stuck or helpless. And in order to support other humans we need to support each other as a team. With this in mind, a few things drew me to Taproot's mission and values. First, the team works together with a strength-based approach. We build on each other's strengths and support each other in areas of growth. Second, the Taproot team is building a trauma-informed culture, recognizing that our lived experiences are complex and inform the ways in which our daily lives play out. Finally, I noted above that Taproot Law's mission is human-centered with the aim to tailor resources and tools to the specific needs of each client. My ultimate goal is to learn directly from clients through my research in order to help build and support communities in need of legal services.
My path to Taproot Law is a winding one that invites me to return to my roots and I'm excited for what's ahead and what I'll learn from my team and our clients!
More from Taproot Law coming soon! We've revised our services to better meet your needs and Erica is touring the UP this summer. Stay tuned and follow us on social media for more details!
–Ann