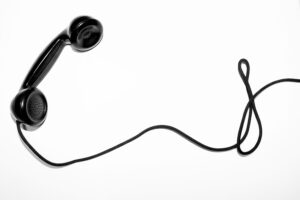 TLDR: Virtual receptionist companies are out for now! We adjusted our process based on feedback from our clients and as a result, Chrissandra Haara (Gladstone) is joining our team as Taproot's receptionist!
Is tech always a good thing? I'm interested in technology and how it will benefit the Taproot team and clients. So, when I heard of virtual receptionists from the Lawyerist Podcast I was so pumped. The economics and other logical factors made sense. I thought outsourcing reception would make it easier on you and on the team. But then we started to hear from you:
Hi, I'm trying to schedule a coaching session with you, but lots of calls were required to schedule by phone.
I'm not sure who I'm talking to…are you a Yooper?
Starting with empathy. When our team started to get this feedback, I thought to myself, "OMG that makes so much sense! I've felt that kind of frustration, uncertainty, and distrust before when trying to use a service or get a question answered." While virtual assistants can be useful in other contexts, the team realized this approach was not working for Taproot and that it did not align with our human-centered values.
Using technology with intention. A colleague of mine once said to add technology to your practice only if you can perform it well. This wisdom is especially true for us now. Yes, Taproot wants to provide legal services and resources that are easily accessible to you, but we won't use technology for the sake of using technology. We need to know it works for you and that it's in line with our values.
Deep work. As a human-centered design practitioner, I am looking at the usability of a process on (1) my fellow teammate and (2) our client. We learned quickly that by relying on virtual assistants, BOTH the team and our clients experienced unnecessary extra steps to just get a phone call scheduled. These extra steps led to distractions that prevented the team from engaging in quality deep work. The more we were distracted by extra steps, the less we could execute.
Humanizing the process. The process of figuring out what works and what doesn't, will take some experimentation and trial and error. Through experimenting with virtual receptionists, we thought this approach might be a way to get your questions answered fast and scheduling made easy. Turns out it only created extra steps and more confusion. That's why we're excited to announce that Chrissandra Haara, is joining us part-time to provide direct customer service to you when you call. Chrissandra, pictured here, is based in Gladstone and standing by to answer your questions and schedule your coaching calls, one Yooper to another!
Before I sign off..we've updated our coaching services!
To fulfill our mission and keep our prices low, we are now offering 30-minute coaching sessions at $175 flat-fee for an initial coaching session and $155 flat-fee for a return coaching session.
Taproot Coaching provides guidance on topics ranging from wills and trusts to access and boundary line questions to family and housing issues. I work with you to address your specific needs and goals, leaving you with a strategy for moving forward.
Schedule your Coaching call today by calling 906-284-8426 or with this link.
Want to learn more?
Learn more about Taproot by following Taproot on social media and reading/watching my feature on Upper Michigan Today. You can also meet 1-on-1 with me on my summer tour stops!
–Erica