Free initial consultations can be tempting, especially when you think you're getting free advice from an expert. Unfortunately, these kinds of consultations don't usually turn out that way.
The truth about the free initial consultation is that it is a tool that lawyers use to size up a potential client for a long-term relationship. The lawyer is determining:
whether they will get along with you through months of representation and high-emotion issues,

w

hether you can afford the lawyer's retainer, and

whether their expertise is a good match to handle the t

ypes and difficulty of your claims.
In other words, the free initial consultation exists primarily for the lawyer to get the kind of business they want-not to help a client freely navigate their problem without hiring a lawyer.
Unfortunately, many people believe this common misperception and make the initial free consultation their primary focus for getting legal advice without hiring traditional representation. While the lawyer will banter about the the law, the information usually remains ambiguous, leaving people confused and asking for more [expensive] help.
But if you can't afford a lawyer in the first place, you will be left wanting the advice they cannot give you.
Why? Because there are a million laws with a million nuances, based on the unique facts of your situation. A free initial consultation gives a lawyer just a taste of your case. Their risk of liability would be way too high if they started dispensing their most valuable legal advice during the free consultation.
So what is a free initial consultation? It's marketing! Lawyers sell their analysis of the law and their knowledge of the process. They can't just give that away.
Get what YOU need from a free consultation
If you can pay a traditional lawyer, use the free initial consultation to interview your lawyer. Look for the following:
Personality.

 Do you like them? Do think you'll be able to talk to this person about the important things going on in your life.

Competence.

 Do they seem to know what they are talking about? What evidence are they providing to you?

Cost. 

What is your budget and is the lawyer proposing pricing you can reasonably afford?
If you cannot afford traditional legal services, seeking a free initial consultation may just be wasting your time. Keep the following in mind:
Attorneys in Marquette County bill approximately $205 to $350 per hour. Check out the 2023 Economics of Law Survey Results for reference.
Consider how much damage you had vs how many hours you think you'd need a lawyer.
Lawyers cannot practice in small claims, which is $6k in damage. If your claim is below this amount, it's probably good to seek alternative legal services.
There are alternatives to better fit your needs
In my last couple years of traditional practice, I stopped doing free initial consultations because I wanted to give people a recommendation or advice right away. This approach is not always favorable in the traditional law firm model because the firm systems cannot easily support it. This is one of the primary reasons I started Taproot's coaching services, which is designed to eliminate the inefficiencies present in traditional law firms and allows me to give affordable and transparent legal services.
For example, under a traditional law firm, the initial consultation is free but the initial retainer may be $5000. At Taproot, there is no retainer. You pay for what you need and can afford. Our prices are published to help you understand what you can afford.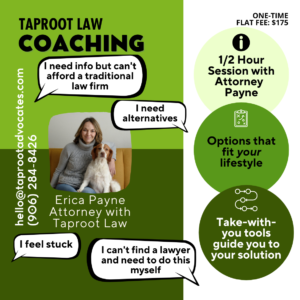 If you need more in-depth information and services for a more affordable cost, Taproot Law is there for you. For example, Taproot's coaching service is one type of legal service that can help move you forward with your problem or get training on how to hire a lawyer.
Another alternative is Taproot's Make-it-Legal program that allows us to address a legal project all at once or a phase of it all at once rather than committing to the long haul. Prices are affordable and published so you can work it into your budget and plan for your lifestyle. Special features of these services include eliminates long waitlists for free initial consultations, transparency, and eliminates long waits for documents.
At Taproot, we encourage self-advocacy and doing what feels right for your legal needs. If it's a traditional firm free consultation you need, remember to make sure you're getting out of it what you need! If you want affordable legal services tailored to your specific legal needs, give Taproot a call! Call (906) 284-8426 to schedule a Make-it-Legal or coaching session today!
We're so excited about expanding our services and meeting your needs and a lot of new things are coming soon, in addition to the services we already offer. Stay tuned for a fresh, new website where you can find all of our services and pricing posted there!
–Erica